Here you will find our new or upcoming groups. Some groups may require registrations, however others are come as you are. Please feel free to call or email the church at any time to find out more!
Info@StSimonsUmc.com | 912.638.3317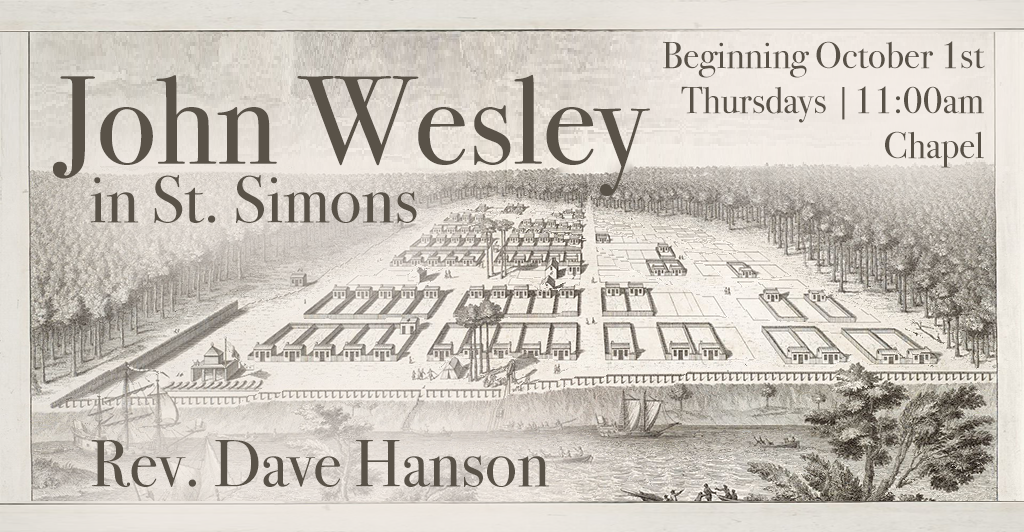 Welcoming Rev. Dave Hanson's:
"John Wesley in St. Simons"
Beginning October 1, 2020 | Thursdays 11:00am | Chapel
St. Simons UMC is thrilled to host this longstanding lecture on John Wesley. Rev. Dave Hanson, a former paster of SSUMC, is a world renowned expert on the history of John Wesley. This lecture focuses specifically on his time on St. Simons Island, GA.
Join us on Thursdays for this Lecture. All are welcome. The lecture is Free.
Wednesday Night Programming Returns
Beginning October 21, 2020 | 5:30-6:30pm
Children's Ministry Wednesday Nights:
"The Art of Thankfulness"
Children's Ministry and Music Ministry presents a 5 week progressive Art Project. We will learn about Thankfulness while we create with local artist, Katherine Vineyard. Each Wednesday is a different stage of the project, so make plans to attend each week! Projects will be sent home on the final night.
Free for children Kindergarten-5th Grade
Wednesdays | 5:30-6:30pm | Children's Ministry Area
Living with Courage and Hope in Uncertain Times"
A 5 Session Group Study | Rev. Tom Jones
Jesus tells us, "Do not be afraid," but with everything going on in the world, how is it possible not to be anxious? In this 5 week study Adam Hamilton explores the worries and fears most of us experience. The group will learn to identify our fears and discover practical steps for overcoming them…all in the light of Scripture and a faith that promises again and again that we can live with courage and hope. Book purchase is not required, but are available to purchase at Cokesbury or Amazon.
Wednesday | October 21, 5:30pm | Thorpe
Read more...
---